Psst ... Scottie Andrew here, subbing in for AJ this week. Let's dive in!
As the end of the year creeps up on us, so do the inevitable "best-of" lists, recounting the media and phenomena critics liked in 2022. I'm sure some of your favorites were left off these lists this year, as were mine. So let's make our own, shall we? And since we're the ones making the lists, let's get imaginative. My greatest dining experience of the year was at a spring music festival, seated on wet grass, chowing down on a massive piece of overpriced cheese pizza. The best show was "Bob's Burgers" reruns. My finest walk of 2022 involved seeing no fewer than seven robin fledglings attempting to fly. And the best newsletter of 2022, or any year, is this one! These are just my opinions, but I hope you share that last one. 
If there's something you'd like to see here, drop us a line. Know someone who could use a little Good Stuff? Send them a copy! We hope you love it as much as we do.
Our favorites this week
Get going with some of our most popular good news stories of the week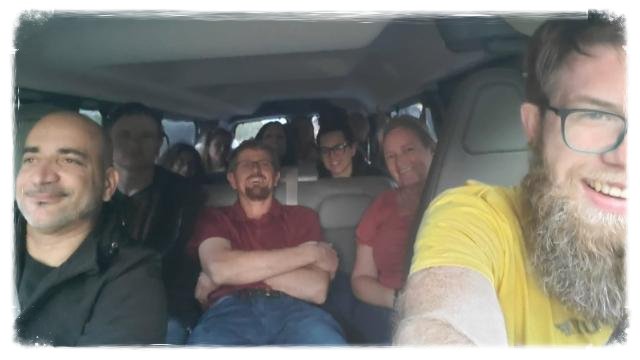 Meeting forever friends at the airport
The airport isn't just a hub for anxiety — these folks found lifelong friends and partners among the Auntie Anne's kiosks and travel hubbub. Here, snippets of some lovely stories of relationships fostered at baggage claim and beyond from our friends at CNN Travel: 
James Sanford was waiting for his luggage to appear at baggage claim in the Dominican Republic when a charming stranger sat next to him. Daron Fowler was, like Sanford, also from Atlanta and also in the DR for a Pride event. They ran into each other again, by chance, at a club back in the US. After a few more run-ins, they finally went on a date and fell fast — and nearly a decade later, they married.  "I did not go to DR expecting to meet my future husband at all," Fowler said. "I happened to sit down on a bench."

Lost luggage brought Hana Sofia Lopes a lifelong friend in Azalia Claudine Becerril Angulo. Earlier this year, Lopes flew to Montreal where she expected to meet the prime minister of Luxembourg, where she was born, but her bags never arrived with her. She tearily explained her situation to a friendly airport worker — Angulo, who offered to do Lopes' makeup for free so she'd feel more comfortable at the event she was attending. Angulo did a stand-out job, and the two became fast friends. "It didn't feel like I was just meeting somebody for the first time," Lopes said. "It felt like I was meeting up with an old friend." 
Flights get canceled sometimes; it's a pain, but it happens. Rather than sulk or attempt to rebook, though, an enterprising group of passengers whose trip from Orlando to Knoxville, Tennessee, was canceled instead rented a van to make it home on time. Thirteen of them made the trip across state lines, sharing stories and documenting their journey on TikTok. The passengers spanned ages and backgrounds: There was a teen visiting a college with her parents and another with a critical appointment in a custody case; a minister and a farmer who only spoke Spanish; an influencer and a recent college graduate. And they all made it to Knoxville with minimal traffic and more than a few bathroom breaks. "I feel like this situation for me specifically kind of restored my trust and humanity a little bit," one passenger told CNN. "There's definitely hope for people — people, they can be good."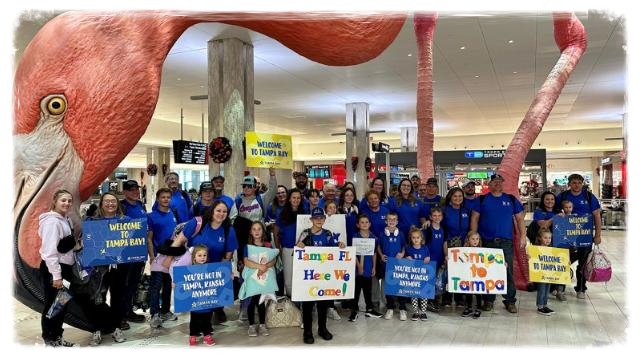 Tampa residents take a trip ... to Tampa
They sure aren't in Kansas anymore, but they're still in Tampa — just not their Tampa. Earlier this month, the city of Tampa, Florida, invited the 105 residents from Tampa, Kansas, to experience big-city life in the Sunshine State. Almost every resident of the teensy town accepted, and they were whisked off to Florida for a holiday vacation sans snow. Among the travelers were 30 children, most of whom had never flown before (and shockingly, none of them were put off by that giant flamingo in the Florida airport). The Tampa, Kansas, crew spent three undoubtedly humid days at some of the big Tampa, Florida, sights — the Florida Aquarium, Busch Gardens and ZooTampa (a place near and dear to this Tampa native's heart) — over three days before they flew back home. It's unclear whether Tampa, Kansas, will invite their Florida counterparts over, but I'll keep my bags packed anyway.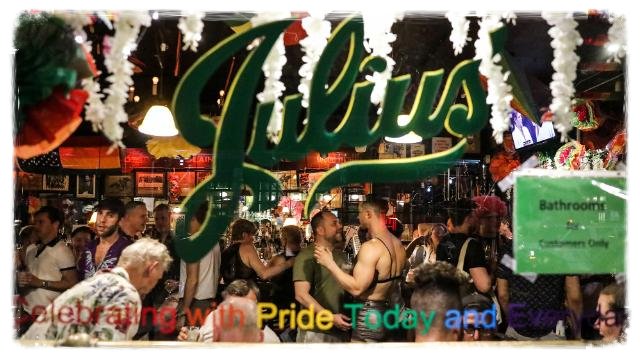 A gay bar honors its history
The Stonewall Inn isn't the only Greenwich Village LGBTQ hangout where history happened. Julius' Bar, one of New York City's oldest gay bars, was recognized as an official city landmark earlier this month for its role in an important 1966 protest against homophobic discrimination. At that time, bars often refused to serve out LGBTQ patrons because of a law that allowed bars and restaurants to be raided for "disorderly" conduct, which included same-sex patrons flirting and kissing. And so four gay men staged a "Sip-In" at Julius', which at the time wasn't exclusively a gay bar, vocally asserting their sexuality to the bartender, who denied them drinks. The men successfully brought a court case challenging the interpretation of the law, which made it safer for out LGBTQ people to visit bars. Now, Julius' proudly calls itself a gay bar while owning its history and honoring the four men who made it a more inclusive establishment. "As a gay man who enjoys countless freedoms that were unimaginable in their time, I owe enormous debt to the activists who made Julius' Bar the site of their protest," New York City council member Erik Botcher said. 
High paying cards for Americans with good to excellent credit
The best credit cards of 2022 offer a $300 bonus and exceptional rewards on purchases. Start racking up huge rewards!
Now is the perfect time to get a home equity loan.
Variable rates as low as 7.125% APR. Borrow $25,000 for just $168 per month. One simple form, up to five offers in minutes.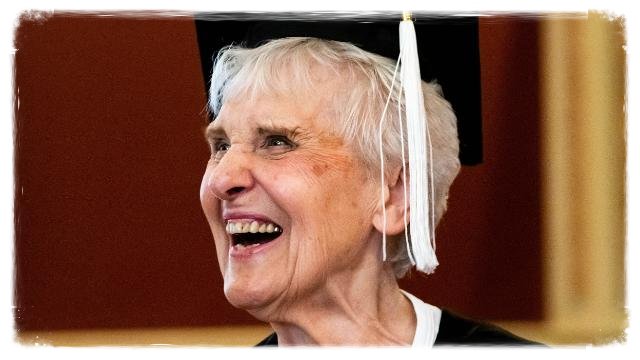 ... great-grandma and graduate Joyce DeFauw, who just earned a bachelor's degree from Northern Illinois University more than 70 years after she first enrolled! DeFauw was months away from earning a degree in home economics when she fell in love with a man from her church. She decided to pause her studies to start a family with him. After her first husband passed away, she remarried and grew her family — today, she's got dozens of grandkids and great-grandkids. In 2019, she mentioned to them that she came close to completing her degree, and her ever-supportive family encouraged her to follow through. And so she did! This time, though, she opted to study from her retirement home. She took one online class per semester — her first time using a computer! — which kept her busy during the early days of the Covid-19 pandemic, when the virus kept her family from visiting. And now, three years after she picked her studies back up, she received her degree in general studies. Why'd she go through all the studying and cramming of college again? Well, why not? "It's nice to finish something you started," DeFauw says — whether it's a lengthy book, an art project or even a long-paused college education. 
Regular "Good Stuff" readers know that if there's a wildlife photography award ceremony, we'll cover it. (You try resisting a photo of a smiley snake mid-giggle!) This year's crop of Comedy Wildlife Photography Award honorees did not disappoint: The winner was a relatable pic of a young lion cub losing its footing and careening down the side of a tree. But my favorite is that of two penguins in a tiff — their backs turned to each other, with the male's beak upturned in disdain. But it's the flipper that really sends the message here — he's not hearing any more complaints. Come to him when you've got something krill-y important to say. 
Congratulations are in order for Nelly Cheboi, CNN'S 2022 Hero of the Year! The computer science professional quit her software engineering job in Chicago to create computer labs for children in rural Kenya, where she grew up. Her nonprofit, TechLit Africa, uses upcycled computers to build the labs and help young people living in poverty learn computer skills that can give way to a brighter future. "The world is your oyster when you are educated," she told CNN. "By bringing the resources, by bringing these skills, we are opening up the world to them." The Hero of the Year honor also comes with hundreds of thousands of dollars in donations for Cheboi to continue her important work. 
CNN Travel rounded up the world's most extreme golf courses, and they're a far cry from the quiet, occasionally dull gameplay for which golf is known. There's a naturist golf course in southwest France, where nudity is mandatory, and another in Hawaii set next to an active volcano. Golf has been played on the icy outskirts of Greenland. One South African course requires players to take a helicopter to access the bonus 19th hole, and another in Kenya doubles as an animal sanctuary, where you might find a giraffe or a zebra on the green (they won't caddy for you, though). 
Whales — the gentle giants of the sea, some of the largest mammals on Earth and now, climate crisis warriors! A new study identified whales as important carbon sinks — that is, organisms that can absorb carbon dioxide. Whales are, of course, enormous, reaching up to 150 tons. Because of their immense size, they're able to store carbon much more efficiently than most animals. Plus, whales tend to live longer than many animals, making them "one of the largest stable living carbon pools" on the planet, per the new study. And when they die or defecate, their carcasses or excrement tend to sink to the sea floor, taking the carbon therein with them. Yet another reason whales are among the most remarkable creatures we've got — and another reason to protect them. 
Rec of the week
Brought to you by CNN Underscored
Shameless animal video
There's always time for cute animal videos. That time is now.
I recently had the great pleasure of snuggling several baby goats. These kids are just as cute. (Click here to watch.)
A newsletter for the good in life